Rating: 5 million sprinkle stars
Goodreads Book Description:
Bernice Aurora Wescott has one thing she doesn't want anyone to know: her name. That is, until Bee meets Levi, the local golden boy who runs a charity organization called The Color Project.
Levi is not at all shy about attempting to guess Bee's real name; his persistence is one of the many reasons why Bee falls for him. But while Levi is everything she never knew she needed, giving up her name would feel like a stamp on forever. And that terrifies her.
When unexpected news of an illness in the family drains Bee's summer of everything bright, she is pushed to the breaking point. Losing herself in The Color Project—a world of weddings, funerals, cancer patients, and hopeful families that the charity funds—is no longer enough. Bee must hold up the weight of her family, but to do that, she needs Levi. She'll have to give up her name and let him in completely or lose the best thing that's ever happened to her.
For fans of Stephanie Perkins and Morgan Matson, THE COLOR PROJECT is a story about the three great loves of life—family, friendship, and romance—and the bonds that withstand tragedy.
I've re-written this review more times than you can ever imagine because I've wanted to include as much as possible without spoiling this one-in-a-million beautiful creation.
Sierra had been talking to me about this wonderful book since I met her in early 2017 and I had been DYING to read this masterpiece, craving more information and willing to give up anything to get my hands on it. Then when I finally read it…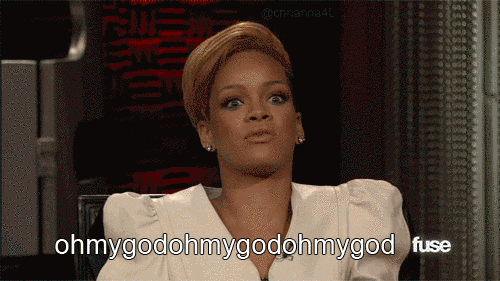 It was GLORIOUS!!! Never have I read a book that made me feel so many things at once and made me fall in love with every character in some way, shape or form. The Color Project blew any expectations I had out of the window, it was so gosh darn cute! All I wanted to do was gather this precious book in my arms, roll it up like a burrito and never let go. In saying that, Sierra also has a way of making you want to cuddle it like a bundle of joy but then rip your heart out because you were not expecting the agony of what was to come next. Needless to say, a lot of emotions are felt when reading this book. A LOT OF EMOTIONS.
Whilst being a beautiful romance, The Color Project deals with serious issues such as relationship struggles, grief and what the future beholds. It's an authentic story with very relatable characters and little nuances that make your heart flutter.
Oh, the characters in this book are some of the most wonderful characters you will ever meet. Let's start with Bee, sweet Bernice Aurora Wescott, what a darling young lady. She is one of the most relatable narrators, she's got flaws, her awkwardness is honestly cringey and adorable at the same time. But it's her flaws that shine through in a way that makes you love her more than you thought you could. I'll admit there were times when I just wanted to scream at her and give her a good shake back to reality, but I understood where she was coming from in terms of her actions and the fears that provoked those actions. That's what made her real, what made her so relatable and I utterly respect Sierra for creating a character like Bee.
My sweet, precious, baby boy Levi. Oh, how I adore your sparkly little bean self. As the synopsis tells, he is the CEO of The Color Project. A charity. This nineteen year-old cinnamon roll RUNS A CHARITY. Like can we take a moment to appreciate how he has done that and the amount of lives he's changed. Levi is the epitome of someone with a heart of gold and I utterly loved him. He isn't just this perfect notoriously good pretty-boy love interest, he has a backstory and family and most important of all, emotion.
And although I absolutely loved Bee and Levi and their adorable romance. Nothing beats my favourite character in The Color Project, Bee's best friend, Gretchen. The two may live far away from each other but nothing stops the powerhouse duo of Bee and Gretchen. She's sassy, feisty, stylish and honestly one of the best friends a girl could ever wish for.
I also adored Bee's family, they were the centre of her world and nothing made me happier than to see her family through Bee's eyes. Yes, sometimes it squeezed my heart but it was still so touching to see how they all worked through the hard times and came together to support each other as much as possible. They reminded me of the Weasley's in the sense that all I wanted to do was be a part of that family and yet, Sierra makes the reader feel like a part of Bee's family.
Finally, let's talk about the title of this book, The Color Project. The name of Levi's project, his master project where he spent the majority of his time after work. I don't think I could have loved TCP more than I did because of what it stood for and the idea of it was honestly BRILLIANT. A charity that is constantly helping in any way they can, going to any length to make people smile and show their true colours.
I couldn't be more honoured to have read this book, thank you to the beautiful Sierra for letting me read an early copy in exchange for a review. This book means the world to me and will forever be held high on my pedestal as one of the best books I've ever read.
Sierra also popped in to tell us about the idea behind The Color Project, check that out here
Think Lovely Thoughts and keep on shining those true colours xo